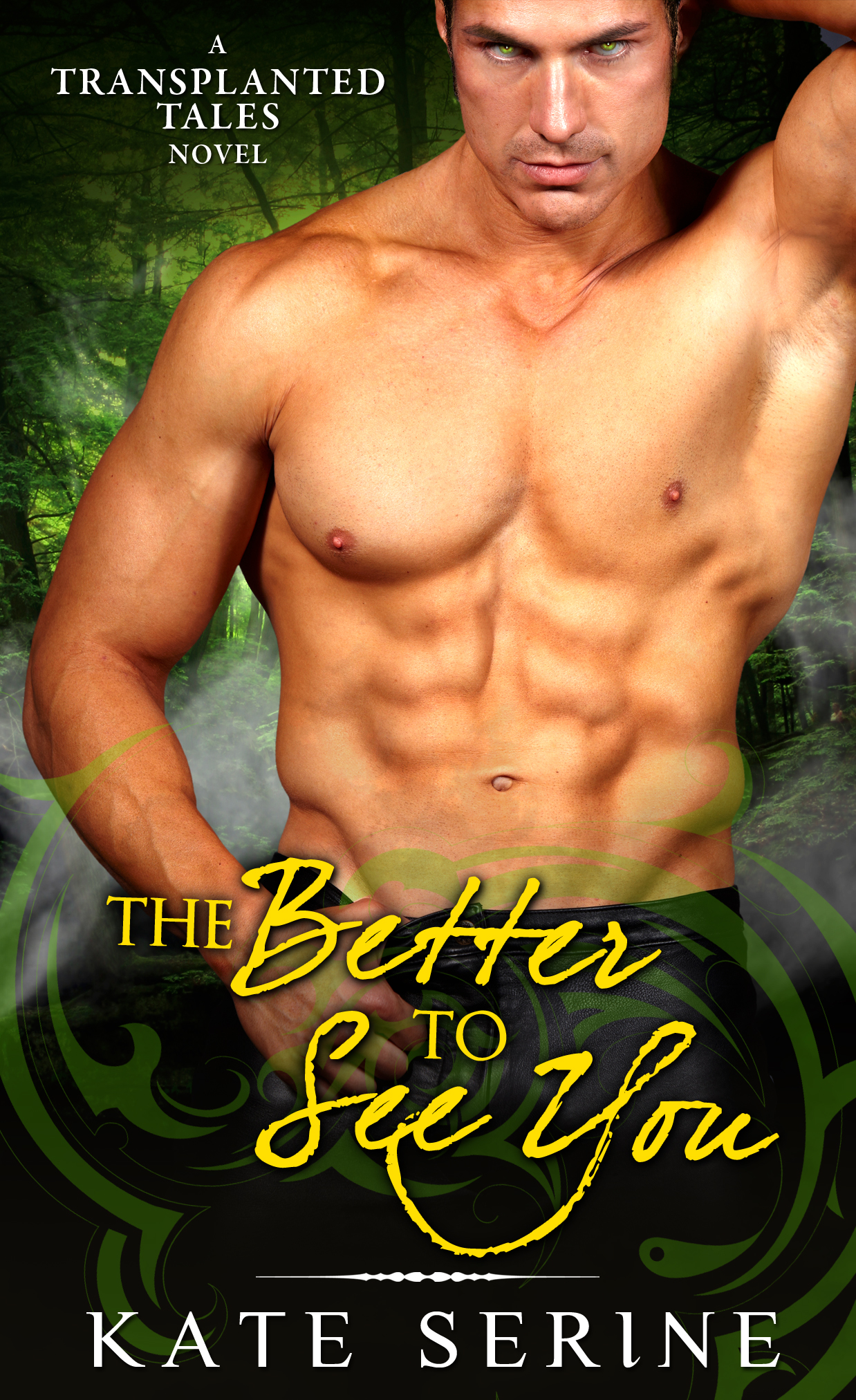 Happy Friday, everyone! Today we have a review of urban fantasy/paranormal romance author Kate SeRine's novel, THE BETTER TO SEE YOU, book two of the Transplanted Tales series! If you haven't already seen my review of the first novel in the series, RED, you can do so by clicking here: Review of Red by Kate SeRine. Enjoy both reviews!
Synopsis:
Once upon a time, a spell went awry and Make Believe characters were cast into the ordinary world. And the results aren't always happily ever after…
Everyone thinks fairy godmothers can do no wrong. But if not for a certain spell mis-cast by Lavender Seelie, Cinderella's former fairy godmother, the Tales would not be stuck in the Here and Now. Fortunately for Lavender, she's about to get a second chance at a happy ending…
The Refuge, a sanctuary for wayward Tales, seems like the perfect place for Lavender to start a new life—especially when she discovers an unexpected ally in Seth, the brooding werewolf who's been typecast as a villain ever since his run in with Little Red Riding Hood. But when humans from nearby towns start turning up dead, their bodies mutilated with archaic Tale symbols, Lavender wonders if Seth's deep sensuality has blinded her to the truth. And that distraction could put innocent lives in danger. Including her own…

Genre: Urban Fantasy / Paranormal Romance
First Sentences: "Magic's a funny thing. It's seductive, addictive. There's no bigger rush than harnessing the elements and bending them to your will, experiencing that orgasmic release of energy as a spell bursts forth and alters time, space, reality..." A fabulous opening! This short excerpt from the prologue hooks you into the story and pulls you right in. I fell in love with Lavender's character from the start. Despite being the reason the Tales currently find themselves in the Here and Now, I felt sympathetic toward Lavender from the get-go and once Lavender gets back on her feet and reclaims her magic, she's a force to reckoned with!
Brownie Points: As with RED, my favorite thing about Kate SeRine's novels is the voice. It hooks me in every time and I can't get enough of it. I couldn't stop flipping the pages of THE BETTER TO SEE YOU--even when I was in Europe on vacation!!! Yes, you read that right. When I was in Europe, I was staying up late to read Kate's book knowing very well that I was potentially sacrificing European daylight hours. That's really saying something. Aside from the amazing voice, Kate's novels are always wrought with tension and in the case of THE BETTER TO SEE YOU, that tension is both action-related and sexual. The heat between Lavender and Seth is smoking! Their chemistry radiates off the page. And Seth? *low whistle* From being hunted nearly all his life and a love life that's left him lonely and heartbroken (until now), Seth is brooding, tortured, and oh so delicious--and who doesn't love a man who can cook? ;-) THE BETTER TO SEE YOU has everything that readers will love about urban fantasy--action and mystery--and everything readers love about paranormal romance--sexy tension and a whole lot of hot and heavy love scenes ;-)
Beefs: I have no beefs with THE BETTER TO SEE YOU. Just like it's predecessor, RED, THE BETTER TO SEE YOU is an amazing, page-turning read! I guarantee it won't disappoint.
Ending: The ending of THE BETTER TO SEE YOU didn't disappoint and the plot/mystery held my interest all the way through. When murdered Tales start showing up in the Refuge, where Lavender and Seth have taken shelter as wayward tales, things only get progressively worse as Seth and Lavender become the killer's main target. Lavender has to summon up some serious magic faerie mojo to get them out of this one--but did I mention her magic has been on the fritz since the Tales landed in the Here and Now? Non-stop conflict makes THE BETTER TO SEE YOU captivating all the way through the last page.
Recommendation and General Comments: Overall, I can't say enough great things about The Transplanted Tales series. Both RED and THE BETTER TO SEE YOU are a fantastic beginning to what I hope will be a long, continuously capitvating and enchanting series. The third installment in the series, ALONG CAME A SPIDER, cannot come soon enough! I have been waiting for Nicky "Little Boy" Blue

'

s story and I'm so excited it's finally here in the next book! Unfortunately, we'll have to wait a little while for that one =( But I bet it will be well worth the wait!

Filled with kickass heroines, yummy men, tension that doesn't stop, and sexual sizzle that will leave you breathless, I give THE BETTER TO SEE YOU a rating of a full moon, the highest rating here at Nocturnal Readings.
I highly recommend this book to readers who love urban fantasy, and those who enjoy paranormal romance as well. A reasonably priced awesome read. So get your asses in gear and purchase your e-book, folks!