Free at last! Free at last! Thank God Almighty, I'm free at last!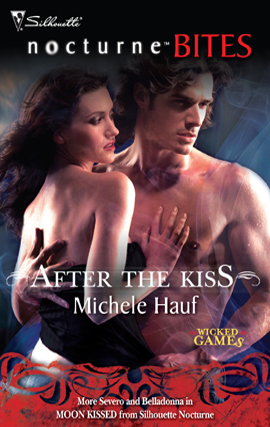 Happy Friday, everyone! As you can see from this post's first words I am free from school! Woo hoo! Until mid-January I will be enjoying sweet, Winter Break freedom. In this time, I've got a lot of writing, a lot of reading, and many other things I can't wait to get done. You'll have lots of reviews from me this month. Now onto the post!
As I promised, today we have a review of Michele Hauf's
After the Kiss
. This paranormal romance novella is published with Nocturne Bites, a ebook line from Harlequin that publishes novellas (a novella is a piece of fiction that is longer than a short story, but not novel length) between 10,000-15,000 words (that's 40-60 pages). This line of novellas targets readers of Harlequin's category romance readers who enjoy their paranormal line, Silhouette Nocturne.
While I am normally not a reader of novella's, I've started reading a few books from this line. Over break I hope to write a short novella that I will be able to submit to Nocturne Bites.
Since this was my first time reading a novella that wasn't literary fiction, please take my critique with a grain of salt. I don't know how these sorts of novella's usually sound, so I can only judge based on my own opinion--I have no ability to compare this to other novella's.
To start, here is the novella's blurb:
"Belladonna Reynolds has just married a werewolf. Severo has given her nearly everything she could want--love, amazing sex, and the honor of choosing her as his mate for life. Yet there is one thing she craves that Severo will not give her: his blood. To a vampire, a couple's great bond is formed with the bite. But Severo will be shunned by his own kind once marked by a vampire. Even as they enjoy intense passion in their marriage bed, Bella and Severo have to wonder: Can a marriage between a werewolf and a vampire work?"
One of the things I enjoyed most about
After the Kiss
was that it was such a quick read. It only took me about an hour and a half to get through the story and it only took that long because I was frequently being interrupted lol.
While I found the story to be relatively enjoyable, the writing is what threw me off. The plot felt a little forced to me. The writing also wasn't my cup of tea. There was a lot of passive voice and it was definitely bogged down with back-story--in my opinion, in a short piece, you definitely don't want to have huge chunks of back-story, which can bore your reader and doesn't help the action move forward.
However, one compliment I can give Michele Hauf is that she knows how to turn up the heat in her characters' bedrooms. For such a short read, this story was full with lots of sexy times.
Though I didn't like the writing and the characters weren't really hitting home with me, overall it wasn't too bad and gave me some fair entertainment. For that reason, I present
After the Kiss
with a rating of first quarter room.
This certainly isn't a bad read, but it just wasn't my particular style. I wouldn't be completely opposed to reading something else by this author, but I wouldn't seek out another story either. However, remember that this is just my opinion and perhaps you would feel differently.
Also don't forget about our weekly blog hops. I've posted the web badges below, so just click and follow as many as you can. Make sure you stop by Monday as well--I'm going to post a review of
The Hunger Games
by Suzanne Collins and believe me, you won't want to miss it. Til Monday! Have a great weekend!